CR8® SUM (HQ) • CORE STAFF
Here are the list of current Creative Robotics™ staff as of 2013. These are the guys who run the HQ (CR8® SUM) and help keep the entire Creative Robotics™ chain up and running! Consider them the heroes of CR8®! They're also considered among the pioneers of robotics in Malaysia (they actually helped encourage the use of robotics in Malaysia's school curriculum, as they were invited to the Ministry of Education (MoE) several times)!
Of course, let's not forget the wonderful people who run all the other CR8® Branches!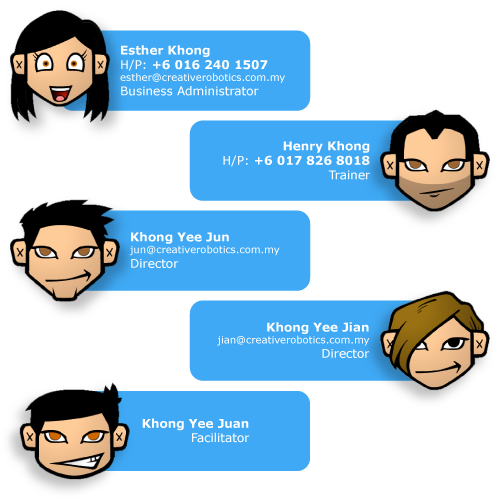 THE KHONG BROTHERS' PROFILE
To find out more about the Khong Brothers, visit:


the Khong Brothers Profile Page


Otherwise, here is a relatively comprehensive Khong Brothers profile. Click on the link below to open it (Microsoft Word, Open Office Writer or any other compatible word processing software is required):
KBU International College has written a concise but excellent profile on Khong Yee Jun (and Jian) as technopreneurs (a term they devised, standing for 'techno' and 'entrepreneur'). The document can be viewed below:


Khong_Brothers_KBU_Profile.pdf


Both Jun and Jian are currently studying at KBU under full scholarships, thanks to their excellent co-curricular and academic performance. Find out more about KBU International College here. Jun also designs and maintains CR8® Online.

CR8®'s OFFICIAL MASCOT | CyE III
Meet CyE III (Cybernetic Entity V3). He's our official mascot. Built entirely from scratch by Jun,
this little robot is quickly becoming world famous!
CyE III (Cybernetic Entity 3) - our mini humanoid robot (tracks => legs)