THE 9797 EDUCATION BASE SET
The Education Base Set - neat, quick and efficient!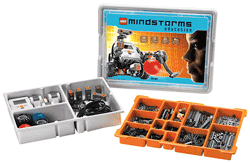 The LEGO® Mindstorms® NXT is the most recent robotics system from the LEGO® Group. The NXT (short for NeXT) system is very powerful and was practically "next big thing" in hobby robotics when it was launched. We highly recommend the Mindstorms® NXT as a learning tool for beginner, intermediate and advanced students.
If you are a step ahead, check out the MyBot™ workshops conducted by CR8® SUM (HQ) here.
It features many new sensors, interactive servo motors and a powerful 32-bit microcontroller unit called the NXT Brick, which is equipped with a graphical LCD, user-interface menu, rechargeable lithium battery, USB, and Bluetooth connectivity. Advanced users can even "hack" the system and add custom sensors and circuits to NXT-based robots.
INCLUDES
-- 1x NXT microcontroller brick
-- 1x Rechargeable Lithium Battery
-- 3x Interactive Servo Motors
-- 1x Sound Sensor
-- 1x Touch Sensor
-- 1x Light Sensor
-- 1x Ultrasonic Sensor
-- 431x Individual Pieces
-- *INFINITE* Possibilities
Not to be confused with the lower-cost Retail version you find in toy shops - this one has
extra sensors and the all-important NXT rechargable battery - saves the planet!
PRICING & ORDER
Please Contact us or visit a CR8® Branch near you!
GET THIS TOO!
The Education Resource Set (9648) adds many (fully compatible) parts to your base set - giving you the best experience. A must have for those who set the sky as the limit.
Lots of extra odds and ends for your enjoyment!