CR8® MyBot™ WORKSHOPS | Building My Very Own Robot™
Only Creative Robotics™ can bring you the MyBot™ workshops! Conducted by CR8® Summit (HQ), MyBot™ is a pseudo-acronym for Building My Very Own Robot™.
In a nutshell (© Creative Robotics™ (CR8®):
-- Build, Program, Decorate and Upgrade your very own robot from scratch!
-- The best part? You get to take your robot home!
-- Use discrete electronic components!
-- Learn what a resistor (R), capacitor (C), transistor (Q) or microcontroller (uC) does!
-- Use readily available, off-the-shelf parts!
-- Depending on the workshop, use PIC, Atmel or Arduino uCs!
-- Learn how to "hack" existing toys & products to suit them to you needs!
-- Program your MyBot™ using powerful, high-level text-based programming languages!
-- Discover Fun Engineering™ - for real!
-- Be exposed to even more of the wonderful world of robotics!*
* Wow, we've been using that phrase since 2003!
Click on the eBrochure below to find out more!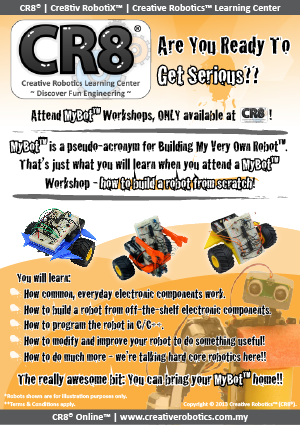 CR8® | MyBot™ MINI-GALLERY
Students had fun learning about robotics, electronics and technology. They then built their own robots from readily available materials and programmed them using a powerful text-based programming language. Robots vary greatly from what you see in the pictures, but rest assured - they're all cool!
Important Disclaimer: This mini-gallery only captures a tiny speck of the fun. For the full experience, sign up for the next MyBot™ workshop!